Effortless access to the internal knowledgebase
Imagine what it will do for your employees when they can find the answers they're looking for across intranets, drives, wikis, and email/chat- based systems without having to ask colleagues.
Use Next-Gen Search to answer your employees quickly and accurately. Reduce the frustration employees face trying to find information and knowledge internally and end the stacks of emails, chats, and calls to HR, Facilities, and other departments.
Search in one place, get answers from everywhere.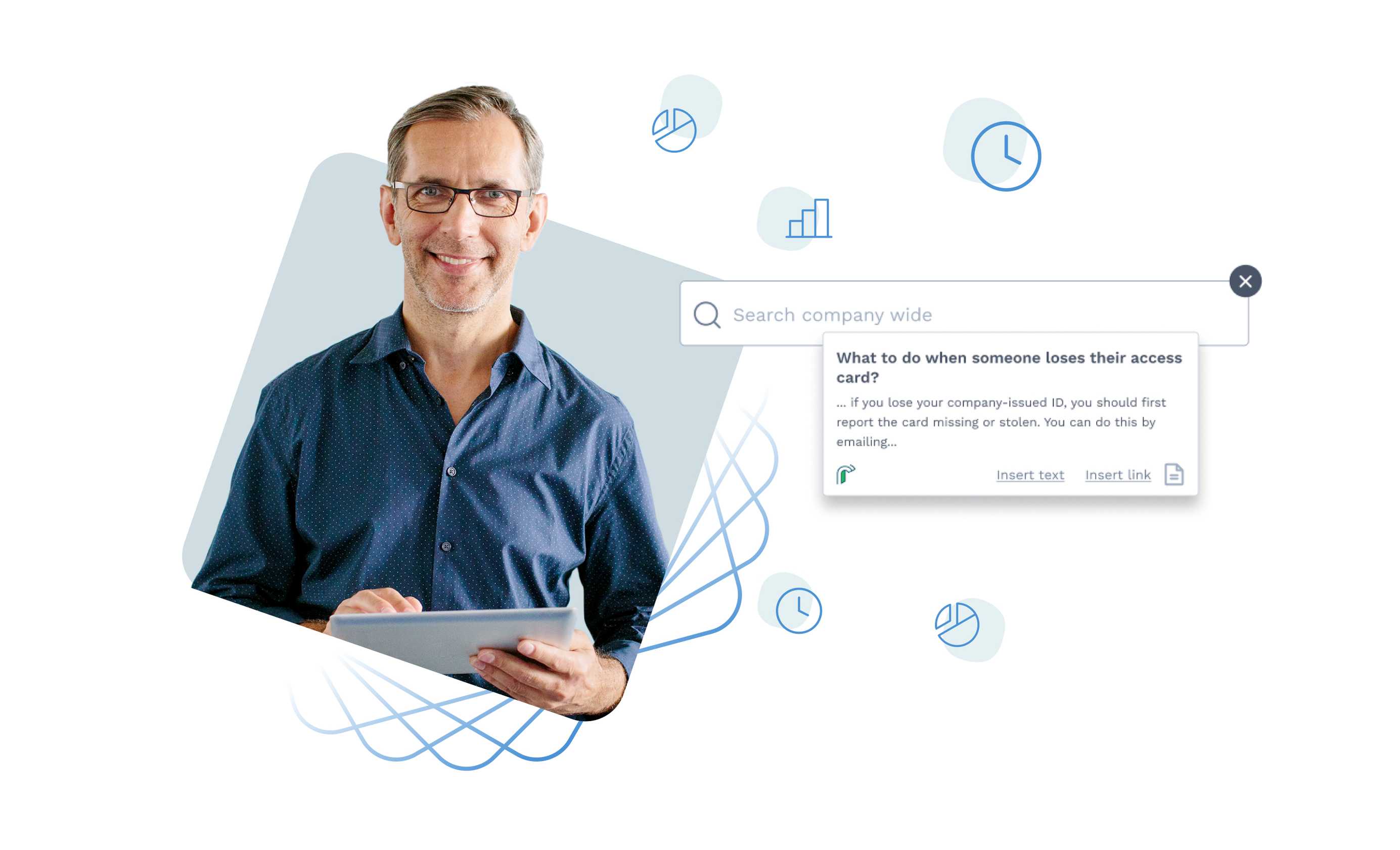 Does it take too much time to find information across platforms?
Internal support, 24/7
Offer fast access to information and eliminate frustrations. Empower your employees to get answers 24/7 without having to wait for colleagues.
Fast track to employee happiness
Responsive employee support stimulates engagement and motivation. Empower your employees with 24/7 access to the right knowledge. Now they can concentrate on their core tasks.
Do employees request access to internal knowledge 24/7?
Focus on requests where the human touch makes a difference
By offering a tool to access knowledge fast, you'll have more time to engage in requests where your presence truly will make a difference.
Next-Gen AI understands your employees without supervision
The algorithms raffle uses to make its model are continuously trained on billions of dialogues, conversations and searches from all over the world. raffle truly understands your employees' requests, without having to use specific wordings, terms and grammar.
Want insights and actionable data?
Report usage and engagement
Get data-driven reports with an overview of all areas that your employees find important and use our intuitive real-time analytics to drive engagement.
Knowledge-based optimization
Improve content that doesn't perform as intended and develop new content based on what your employees are looking for. Identify trending information as well as any knowledge gaps — the information that isn't there but should be.
Fast and efficient deployment
Our technology is built to empower your business. raffle supports the platforms you prefer, whether on web, apps or knowledge bases.
Go live within weeks, not years

raffle's technology is up and running within 3 weeks and delivers immediate ROI.

Integrates with your existing software

From Zendesk to Salesforce, we integrate with all customer chat interfaces. That's a raffle guarantee.

Self improving technology

No need to waste your time on maintenance. Our tools are constantly relearning, improving their already unbelievable accuracy.

Built to scale with your business

Easily scalable with 99+ languages and built on cloud IT infrastructure allowing full flexibility, mobility, and empowering remote work capabilities.
Robust cloud infrastructure
Built on Microsoft Azure cloud infrastructure, ensuring reliable uptimes. We pride ourselves on our stable customer experience.
GDPR approved and compliant
With raffle, your business practices are in line with the processes and safeguards outlined by the EU's GDPR legislation.
Self-improving, no maintenance required
Our AI learns from your agents and customers and gets more intelligent over time, with a model trained on your historical conversations.


How we drive transformation
raffle is all about utilizing the huge potential in Next-Gen AI as an effortless groundbreaking technology, making searches across any ambitious organization easier and more cost effective.